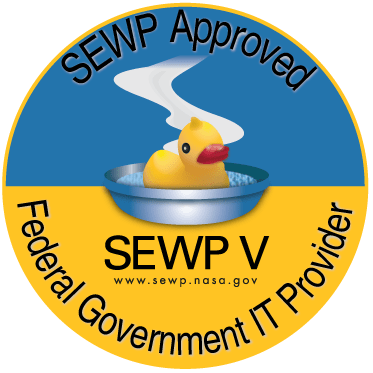 NNG15SC05B, NNG15SC65B, NNG15SC30B
SEWP Overview: SEWP Provides the latest in commercial ICT/AV products and services, the NASA SEWP contract vehicle has an outstanding track record of serving up fresh technology for Federal Agencies. SEWP is a GWAC consisting of over 140 pre-competed Prime Contract Holders, including more than 100 small businesses.
Small Business categories include:
    Service Disabled Veteran-Owned Small Businesses (SDVOSB);
    Woman-Owned Small Businesses (WOSB);
    Economically Disadvantaged Woman-Owned Small Businesses (EDWOSB);
    Historically Underutilized Business Zones (HUBZone) Small Businesses;
    Veteran-Owned Small Businesses (VOSB);
    Small Businesses (SB)
The SEWP contracts offer a vast selection and wide range of commercial advanced technology, including:
Desktops and servers, ICT peripherals, Network equipment, Storage systems, Security tools, Software products, Cloud based services, Telecommunication, Health ICT, Video conferencing systems, Other ICT and Audio-Visual products
SEWP also offers product based services such as installation, maintenance and other services related to in-scope products to all Federal Agencies (including Department of Defense) and their approved support service contractors. SEWP offers low prices and the easiest and fastest quoting and ordering procedures using pre-competed contracts.
Through SEWP, Agencies can find an exact fit for their needs at the best overall value by choosing the right solutions offered directly by leading hardware and software manufacturers and experienced government integrators and service providers.
Type: Multi-Award; Government-Wide Acquisition Contract
Effective/End Date: 5/01/2015-4/30/25
SEWP FEE: 0.34%
Payment Terms: All forms of payment accepted
Warranty: Next Business Day
SEWP T's & C's: http://www.sewp.nasa.gov
PM: Angela Dumm (CSCM, SCME), adumm@countertrade.com, 800-444-9710 ext. 236
Deputy PM: Arno Bergstrom, abergstrom@countertrade.com, 800-444-9710 ext. 204
Eligible Agencies: Open to All Federal Agencies and Approved Contractors
Sales Hotline: 800-444-9710
Sales Email: sewp@countertrade.com
SEWP Support: Helpline: (301) 286-1478 help@sewp.nasa.gov
Delivery: 30 Days ARO (unless specified on quote)
FOB Point: Destination
Returns: Defective product returns handled by warranty. Any other return (i.e. customer order error, CounterTrade order error etc.)-must be requested within 30 days from date of shipment. Pre-approval from CounterTrade Customer Support required. Government error-must be requested within 30 days from date of shipment.
FAR 16.505(b)(1) provides that each contractor shall be given Fair Opportunity to be considered for each order exceeding the micro-purchase limit, typically under $10,000, and issued under multiple award contracts. At a minimum, to provide Fair Opportunity, all Contract Holders within any one of the individually competed Contract Groups or selected set-aside must be provided Opportunity. The SEWP online Quote Request Tool is the recommended method to assist in this activity and to augment the required decision documentation.